Rostock Family Branches
The eight children of Peter Samuel Nilsson & Catarina Petersdotter with living descendants are the branches of the Rostock family tree. Click the names or photos below for more information.

Johannes Petersson was the first child of Peter and Catarina, born 28 August 1834 at Källehult, Algutsboda, died 12 October 1889 at Källeskruf, Ekeberga . He moved to Ekeberga where he was a farmer and also worked as an auctioneer. He married Johanna Johannesdotter and they had ten children - Emma, Anna, Karl, Sara Lisa, Pehr Axel, Nanny, Frans, Otto, Oskar & Knut.
Stina-Kajsa Petersdotter was born 14 March 1836 at Källehult, Algutsboda, died 6 June 1916 at Ryggamo, Algutsboda. She married Gustav Andersson and they had eight children - Johan, Johanna, Ida, Karl, Axel, Emilia, Jenny & Frans.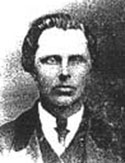 Karl Petersson was born 17 May 1838 at Källehult, Algutsboda, died 13 November 1919 at Rosholmen, Sutarekulla. He was raised at Rostock Farm. He married Johanna Augustdotter and they lived at Virkesjö Södergård Farm, a short distance from Rostock. They had seven children - Ida Charlotta, twins Elise and Emily, Axel, Jenny, Anna, and Per. Johanna died a few days after giving birth to Per. A few years later, Karl married Kristina Petersdotter and they had four children: Oscar, Carl Eric, Elvira, and Evelina.
Johanna Petersdotter was born 27 July 1840 at Algutsboda Norregård, died 3 May 1925 at Hulterstad, Ekeberga. She married Karl Johansson and they had four children - Johan, Aron, Hilda & Anna.
Frans-Gustaf Petersson-Haggquist was born 3 March 1843 at Algutsboda Norregård, died 4 May 1936 at Minneapolis. He married Emma Nickolaidotter in 1866 and was a farmer at Hägerås Norregård in Algutsboda. They had four children - Elise, Ida & twins Amanda & Mary. In 1870, Frans-Gustaf emigrated to the United States, settling in Minneapolis, Minnesota. Emma is said to have had poor health and did not emigrate until 1874. Their young child Ida was left with family at Rostock. Frans-Gustaf adopted the name Frank Haggquist in the U.S. Emma died in 1877. In 1881, Frans-Gustaf married Fredrika Wahlstedt and they had eight children - Victor (died as an infant), Anna, Victor, Joseph, Herman, Paul, Grant & Frances.
Johan Petersson was born 6 Januay 1846 at Rostock, died 1 February 1927 at Örsjo, Kalmar Län. He married Johanna Karlsdotter and they had three children - Anna, Emilia & Signe
Anna-Lisa Petersdotter was born 12 November 1848 at Rostock, died 27 May 1924 at Rostock. She married Frans Petersson and they had four children - Axel, Carl, Hilda & Oskar. The ownership of Rostock farm passed to Carl, then to Carls's son Ivar, then to Ivar's son Rune and then to Rune's daughter Magdalena.
August Petersson was born 5 December 1855 at Rostock, died 9 March 1935 at Emmabo, Vissefjärda. He married Charlotta Jonasdotter and they had ten children - Ida, Hilda, Anna, Karl, Jenny, Bertha, Oskar, Axel, Helga & Ture.